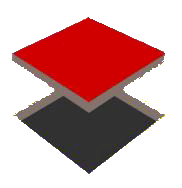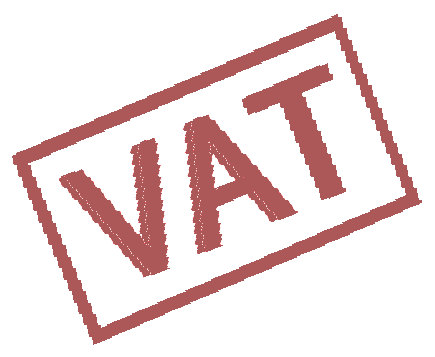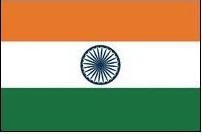 Vat Accounting and Inventory Control
Business Software for trading houses
---
Enable Program Colours Setup
Click menu command EnablePrograms Colours Setup under main menu Settings.
You can change the background colour of windows to your choice. You can also change the background colour of data entry field. When the data entry field is under focus this colour helps in locating the cursor in a glance. You can change both the background and fore ground colours of the data entry field. Select either background or foreground by either clicking the background and fore ground of the panel, select the colour of your choice for it. You can also use the colour selection bar at the top for selection of colours. Please make sure that the correct option is selected for setting the colour from the toolbar between : window colour or field colour the two color setting that you can customize.
SettingSetupProgCol.gif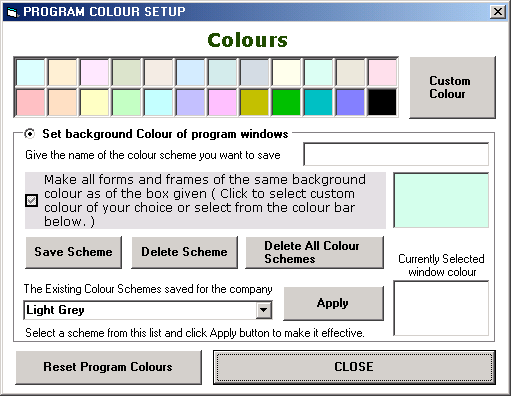 If you want to change the background colour for all windows please give menu command Enable Program Colours setup from menu Settings. A window for setting the program colours will be displayed. Please select a scheme name from the drop down list or enter a new name for the colour scheme. You can also choose a colour from the Colour Selection Bar at the top. Choose the colour and press the button Apply and the background colour of all the windows will be changed. It will take effect when you open the window next time. If you want to save the colour scheme you will press the button Save Scheme and if you want to delete any scheme you will press the button Delete Scheme . The above system works for setting up colour scheme and applying them to all the windows. If you want to setup the colour scheme for a specific window then double click a place on the window where the background is visible. A dialogue for selection of colour of that form or window will appear. Go ahead and set the colour.
If you want to reset the colour scheme to the colourful default used in the program for all windows please press command button marked Reset Program Colours. The colours will be reset but the saved schemes will remain saved. You can use Apply button to apply colour schemes again.
You click the command button marked CustomColour, then it display the following colour selection window. NowYou can select a colour.
SettingSetupProgColCustom.gif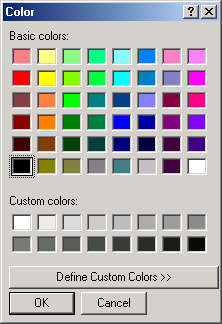 Call Now  


Send Email Now
This website uses cookies to provide you with best user experience.
Learn More.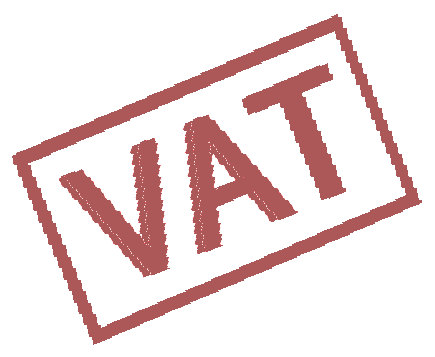 VAT Ready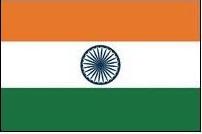 GST Ready

Download

More Details

Buy Now
Welcome to http://www.freeaccounting.in Web Portal.