Vat Accounting and Inventory Control
Business Software for trading houses
---
Menu Administration
Click menu command MenuAdministration under main menu Settings.
On this form data records canbe added, deleted or edited.

This data entry form has been divided under2 tab panels to organize the information and to facilitate convenient dataentry. On each tab there are various data fields that are required.

The details of various controls on each tab panels are given below screen imageof each tab.
This tab name titled Usershas following required fields: Name and Password.
SettingMenuAdmUsers.gif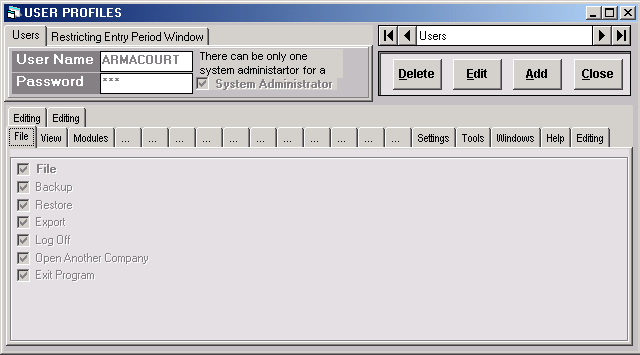 By entering User Profile system administratorcan add new users and delete any user. At the time of opening the SystemAdministrator enters his name and password then press command button SystemAdministrator, User Profile window will be displayed. A check box is given namedSystem Administrator, it should be ON for System Administrator and there must beone system administrator for each company. To add new user press command button Add. All fields will become empty to enter new user name, password, Periodduration and menu options.
SettingMenuAdmResEPW.gif

In Restricting Entry Period Window tab, The period duration can be enabled or disabled. To enable tick the check box Entry period window enabled . The user can access the software only for given time duration. Tick the appropriate menu options with the mouse for new user, he can access only these menu options. The user profile are only enabled when passwords for that company are enabled in Set up open company. The check box marked passwords should be enabled here.
To delete any user from User Profile first bring it in the profile by data control then press command button Delete . User name and password will be deleted.
To close the User Profile press command button Close .
See the following topic also :