Vat Accounting and Inventory Control
Business Software for trading houses
---
System Administration and Password Security
A company can be accessed by multi users and Password facility for each user. Other users cannot access the software except defined users. Company should has a unique System Administrator who decides the access of other users. First user of the company will be the System Administrator for that company.
When first time user uses this program then the User Login window appears after opening the desired company and data integrity test. The User Name is " HITECH " and User Password is " ARM ". Because initially to start the program there must be System Administrator's name and his password so " HITECH " is given as SYSTEM ADMINISTRATOR's name and password. You can change System Administrator's name and Password from User Login Window by pressing command button System Administrator after entering " HITECH and HITECH " as a user name and password. You will get the Profile window. From User Profile the system administrator can change his name and password and can add new users.
Password.gif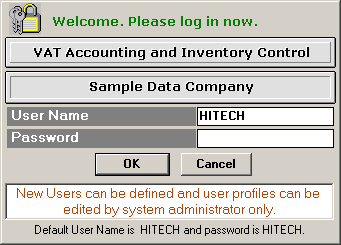 After closing System Administration again you will see User login window, enter desired user name and his password and then press command button Ok to continue the program.
You can also change System Administrator name and password, while setting up a new company by clicking check box
Enable User Passwords for this company
. A window with the heading RESTRICTED OPERATION will be displayed. This window consists of Name of company, User Name, Password and three command buttons named
System Administrator
,
Ok
and
Cancel
. Enter System Administrator Name as " HITECH " in text box given with the User Name and enter his Password same as ARM in the associated text box. Press command button
System Administrator
to change name and password of system administrator and to add new users from
System Administration
.
Restart the program to get the User Login Window to enter the System Administrator's Name and Password. Only System Administrator can add new user or delete any user by User Profile.
To get help on User Profile please refer to :